77% Increase in Malware Attacks for IoT/Connected Devices in 1H22
There was an increase in malware attacks on IoT/Connected Devices of 77% in the first half of 2022, according to a recent report by Sonic Wall. The report also found that ransomware attacks were down 23%, but cryptojacking attacks were up 30%, and intrusion attempts were up by 19%. Cryptojacking uses processing power on unauthorized devices to mine for cryptocurrency, and can impact IoT devices as well.
Here's a summary of key findings from the Sonic Wall Cyber Threat Report for the first half of 2022:
132% increase in Encrypted Attacks

77% increase in Malware Attacks on IoT / Connected Devices

30% increase in Cryptojacking Attacks

19% increase in Intrusion Attempts

11% increase in Malware Attacks

23% decrease in Ransomware Attacks
IoT devices have lower processing power than general IT equipment such as servers or PCs and do not use widely deployed operating systems such as Windows or Linux.  This means that general IT cybersecurity tools will not work on IoT devices and they are more susceptible to numerous cyber attacks , including malware attacks. This chart from the Sonic Wall report shows the global IoT malware volume increase month-by-month.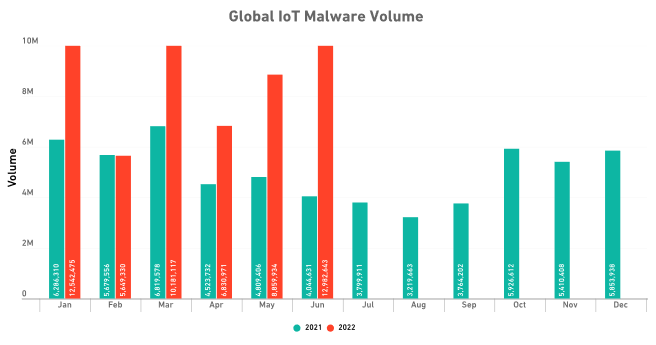 Veridify Security secures IoT and connected devices (e.g. building controls, industrial automation controls) from cyber attacks.  Contact us to learn how we can secure against Malware Attacks on IoT/Connected Devices.
Learn more about cybersecurity for: