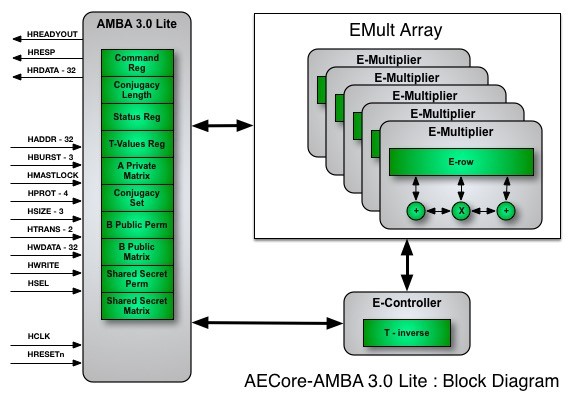 SecureRF's hardware core (Mahogany Core) on Microsemi's SmartFusion2 family of field programmable gate arrays (FPGA) allows you to add high levels of security to your low resource devices without altering the standard platforms currently in use.
This public-key cryptography core, model H-AEDH-MSI-002, offers increased performance while requiring less power and a smaller footprint than other commercially available technology. The Mahogany Core is a Diffie-Hellman-like authentication protocol that utilizes SecureRF's breakthrough Group Theoretic Cryptography algorithm—the world's first "linear-in-time" method. SecureRF's products help secure the devices in the Internet of Things.
Features:
Typically 60+ times faster than ECC for the equivalent security level
Low gate count/low power
Available for FPGA or ASIC implementations
Ideally suited for low-resource devices
Applications:
Interconnected sensors
RFID tags
Smart cards
Chain of custody/product traceability
Digital locks
Anti-counterfeiting
Standard Deliverables:
Synthesizable RTL in Verilog
Support for modern tool chains such as Synopsys and ModelSim
Verification and regression suites
Executable C models
AMBA 3.0 AHB-Lite Interface
Simulation scripts
Microsemi's next-generation SmartFusion2 SoC FPGAs are the only devices that address fundamental requirements for advanced security, high reliability, and low power in critical industrial, military, aviation, communications, and medical applications. SmartFusion2 integrates an inherently reliable flash-based FPGA fabric, a 166-MHz ARM Cortex-M3 processor, advanced security processing accelerators, DSP blocks, SRAM, eNVM, and industry-required high-performance communication interfaces all on a single chip. For more information about the Mahogany Core for Microsemi SmartFusion2, please contact us.