Veridify Announces Cybersecurity for New and Legacy Modbus Devices
Stops Cyberattacks on Industrial Control Systems (ICS), SCADA, and OT Devices in Real-Time
Shelton, CT (July 26, 2023) — Veridify Security, the leading provider of device-level cybersecurity solutions for automation controls, announced DOME™ cybersecurity protection for installed Modbus devices and industrial control systems. DOME uses a NIST Zero Trust framework and is the only device-level cybersecurity solution available for automation controls that stops cyberattacks in real-time.
This enhancement for Modbus TCP expands DOME's reach and delivers security benefits for ICS devices such as programmable logic controllers (PLCs), remote terminal units (RTUs), and a range of SCADA and other operational technology (OT) equipment. DOME Sentry, a security appliance that provides endpoint protection to existing devices, enables time and cost-saving retrofit cyber protection for the large already installed base of Modbus TCP devices and new deployments. A DOME Sentry can provide 1:Many protection for Modbus RTU devices when deployed in front of a Modbus Router or Gateway. DOME Sentry is available in several models to support different network architectures and environmental conditions. In addition, OEMs that support the Modbus protocol can also embed the DOME Client for built-in cyber protection in new devices using Veridify's software development kit (SDK).
"Cybersecurity tools with an IT heritage are extending into OT environments, but they only provide visibility and monitoring, and do not stop cyberattacks. Veridify's DOME is the only device-level solution purpose-built for securing control systems and operational technology and stopping cyberattacks in real-time", said Louis Parks, CEO of Veridify Security.
DOME is a "cybersecurity in a box" solution that automates the critical processes to authenticate devices and establish secure TCP/IP connections, eliminates the need for costly and over-burdened IT/cyber resources, and simplifies deployment using existing control system technicians. Unlike other network-based solutions that provide visibility, monitoring, and alerting for possible issues that can  go undetected for many weeks or months, DOME provides endpoint protection to stop cyberattacks in real-time.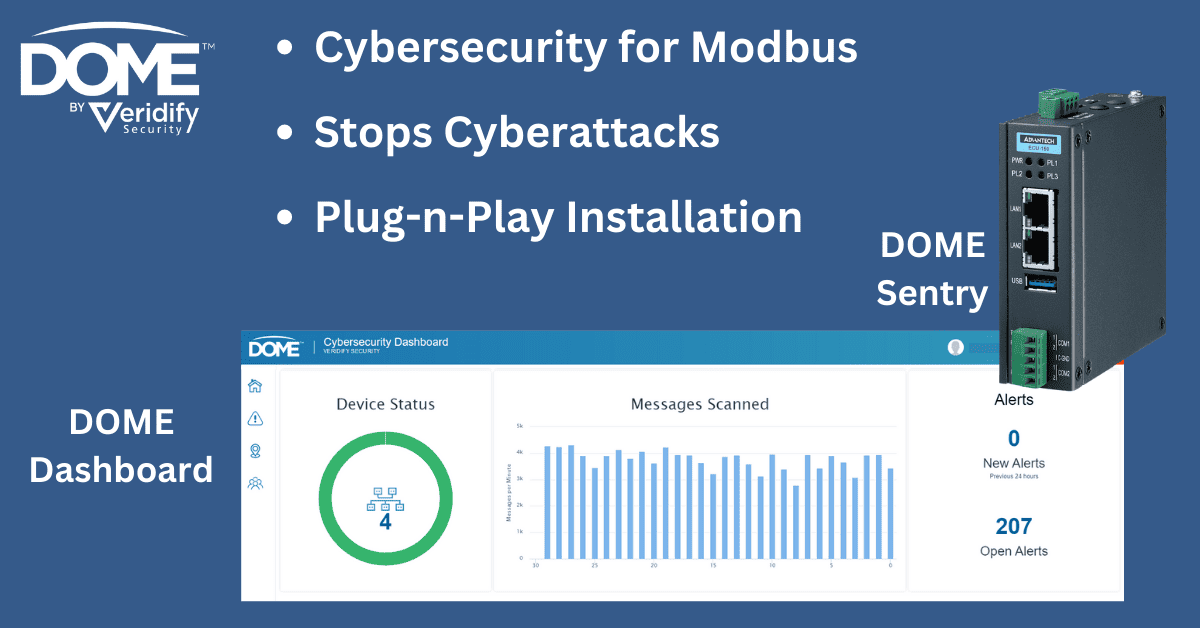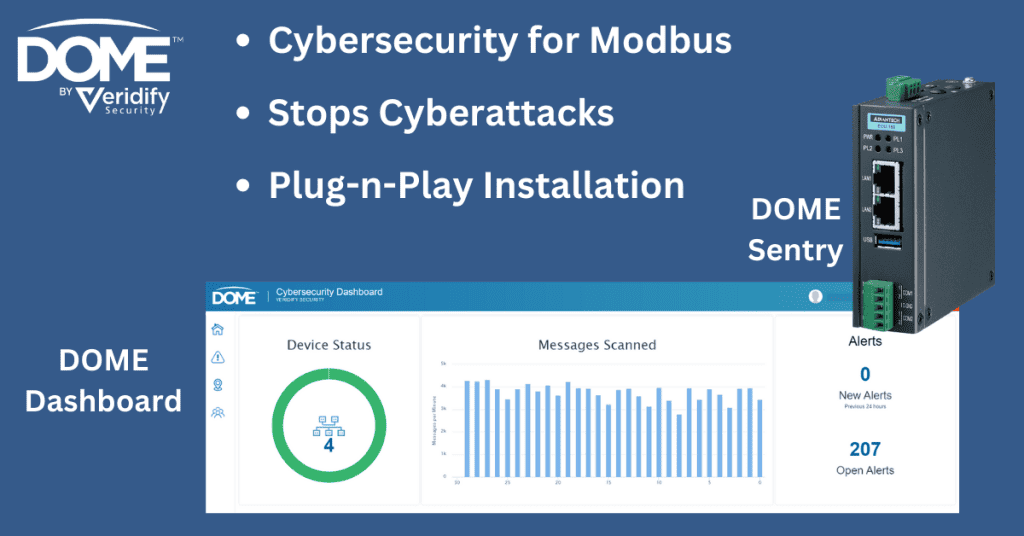 DOME is available from major distributors, including Arrow, TD Synnex, Ingram Micro, Digi-Key, Mouser, and Newark. The DOME Client SDK will be available for OEMs in Q4 2023.
For more information visit https://www.veridify.com, email info@veridify.com, or call 203-227-3151, option 2.
###
About
Veridify Security provides device-level cybersecurity solutions for building automation and industrial IoT applications. More than just monitoring, Veridify's DOME SaaS platform provides tools for OEMs and System Integrators that delivers real-time protection to stop cyber attacks before they happen. Veridify's expertise also includes cryptography innovation for securing low-resource embedded computing and wireless devices with quantum-resistant security to provide future-proof cyber protection. Veridify partners with leading semiconductor, OEM, and technology distribution companies to deliver device-level cybersecurity solutions with global reach.
Topics and Keywords
Modbus cybersecurity, ICS security, OT security, SCADA security