IoT Security Update: July 2019

SecureRF Becomes Part of SiFive's DesignShare IP Ecosystem
We are pleased to now be a DesignShare ecosystem member enabling SiFive's customers fast and easy access to our security solutions for their RISC-V based SoCs. SiFive's program offers a complete portfolio of leading and differentiating IP for custom SoC and Template SoC development, optimized for AI, IoT and edge inference. Through our collaboration with SiFive, our quantum-resistant, public-key security tools are now available to deliver fast, low-energy and future-proof authentication, identification and data protection solutions for RISC-V processors. Read the press release announcing our collaboration with SiFive here and learn more about our partnership with SiFive here.
To see how we are collaborating with SiFive to deliver secure device-to-device communications, secure boot and secure firmware updates for RISC-V processors at the edge of the IoT, download our webinar: Ask the IoT Security Experts: Designing and Deploying Secure RISC-V Solutions.
Industry News
Recent articles shared below indicate that security professionals and consumers alike are growing more aware of the dangers of IoT devices built without security. The threats are serious and, as these reports indicate, the cost of inaction can be significant for both consumers of IoT devices and the vendors that manufacture unprotected connected products. The good news is that our semiconductor partners are taking this threat seriously and are making our award-winning security methods available on their platforms. So, while the dangers associated with unprotected devices are real, by partnering with the right semiconductor manufacturers, solutions are available to designers interested in mitigating threats.
Consumers Urged to Junk IoT Devices
Back in April, security researcher Paul Marrapese disclosed to manufacturers serious security flaws impacting as many as 2 million of their IoT devices. He still has not heard back from the vendors impacted so he is now sounding an alarm to consumers. Marrapese suggests that compromised devices will be too difficult to fix and that consumers should, instead, throw away cameras and other products deemed insecure and source those devices from reputable vendors. Read more here.
Survey Predicts 'Perfect Storm' from Unsecured IoT Devices
A recent survey found that most IoT devices are not designed or deployed with adequate security. The consequences of this "perfect storm of insecure devices being deployed haphazardly in unprepared companies" are clear: 84% of those surveyed said it is very likely their company will have a data breach caused by an IoT device. Read more
here
.
Consumer IoT Devices Are Compromising Enterprise Networks
The 'Bring Your Own Device' (BYOD) to work trend has meant that consumer-grade Internet of Things (IoT) devices continue to multiply within enterprise networks. This trend has resulted in a growing threat to those enterprises, according to a recently published report. Read more
here
.
SecureRF on the Road
GSA Silicon Summit Exhibition 2019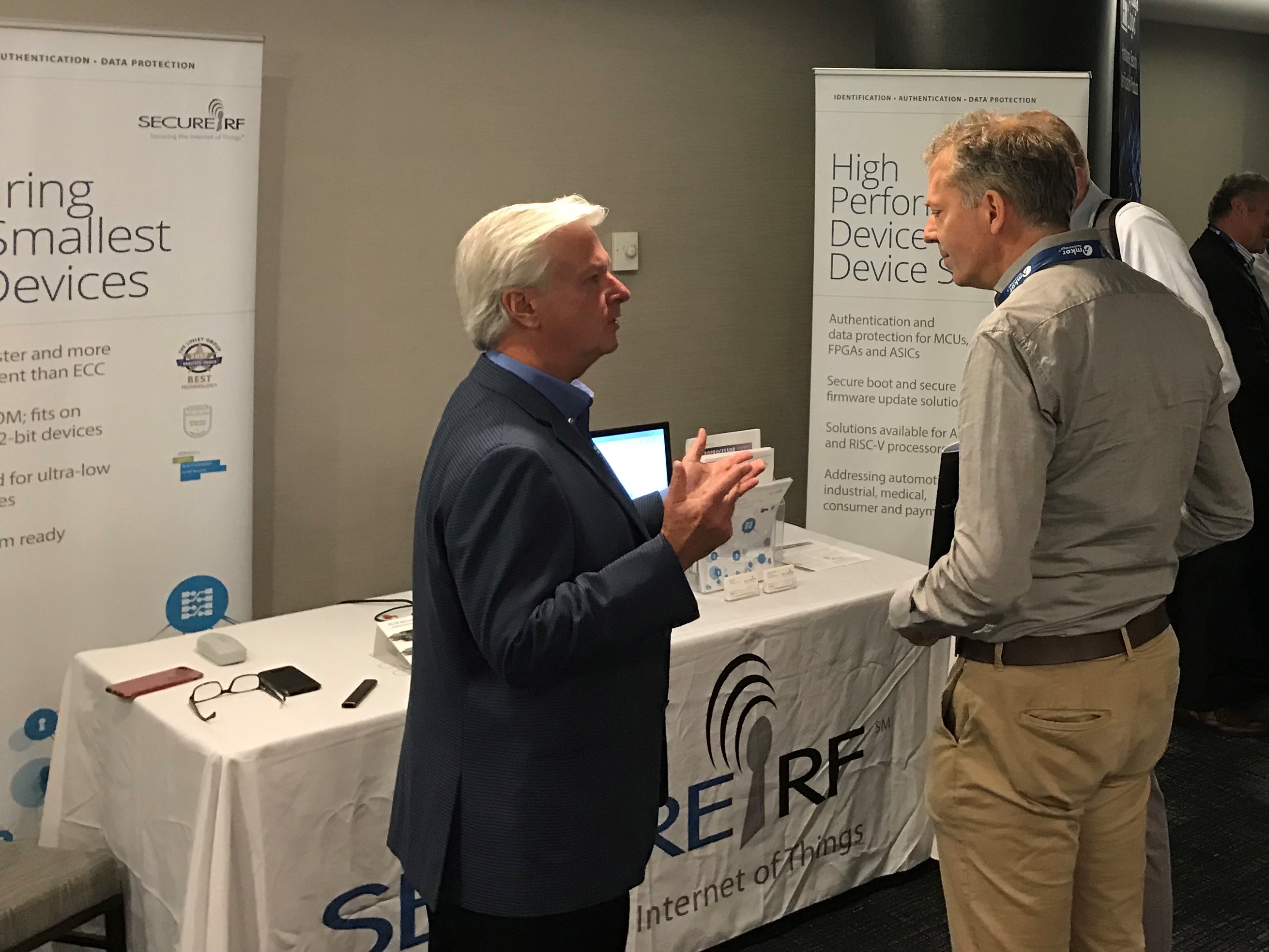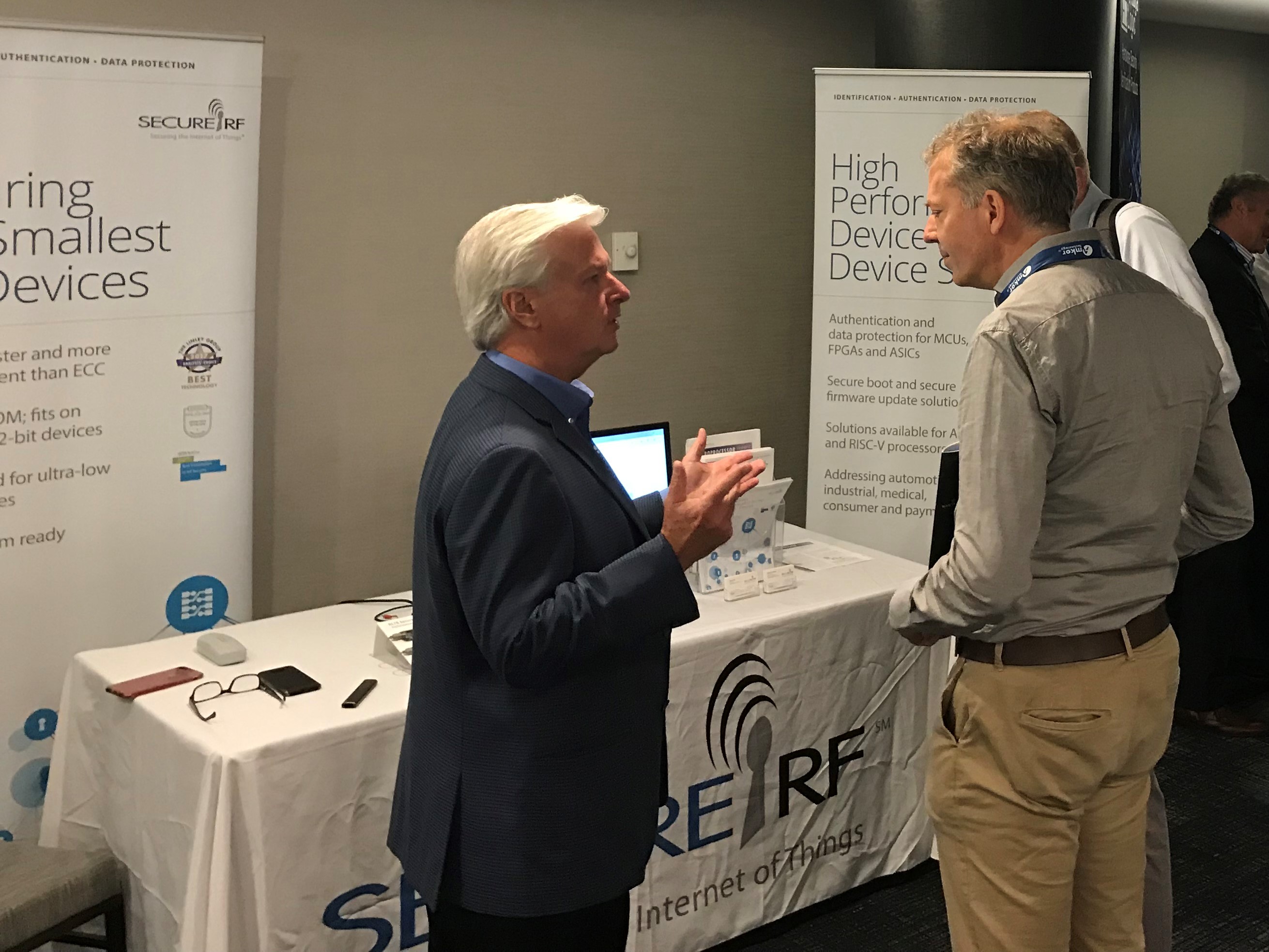 On June 18
th
, SecureRF demonstrated its award-winning authentication, identification and data protection solutions to attendees at the GSA Silicon Summit in Santa Clara, California. The event attracted leaders in the semiconductor industry and security was a hot topic both in the conference sessions and on the exhibit floor. Our tabletop display featured a demo highlighting the speed and small footprint of our methods deployed on the Renesas RL78, a 16-bit MCU. For more on our collaboration with Renesas
click here.
Check out more photos from the event: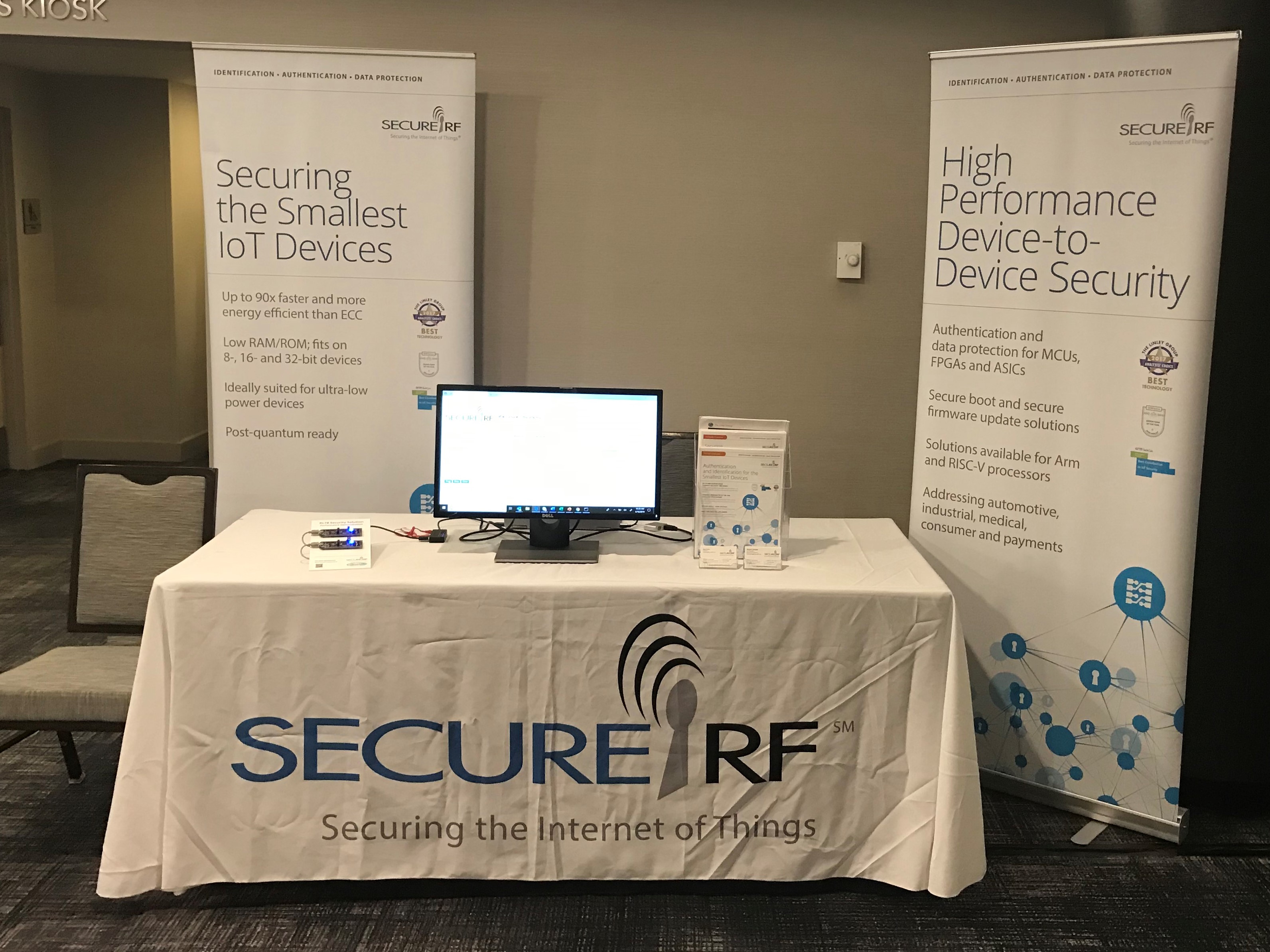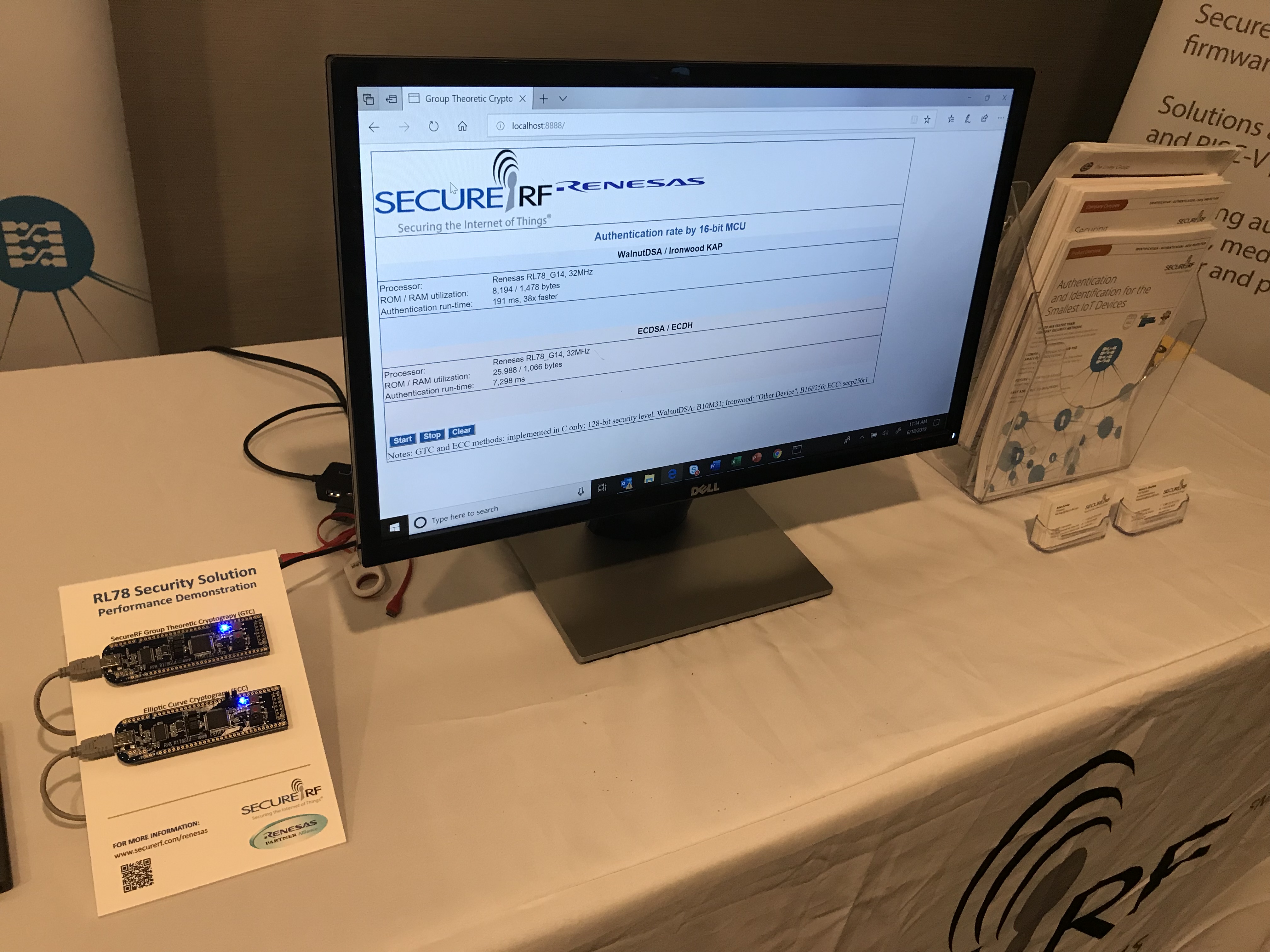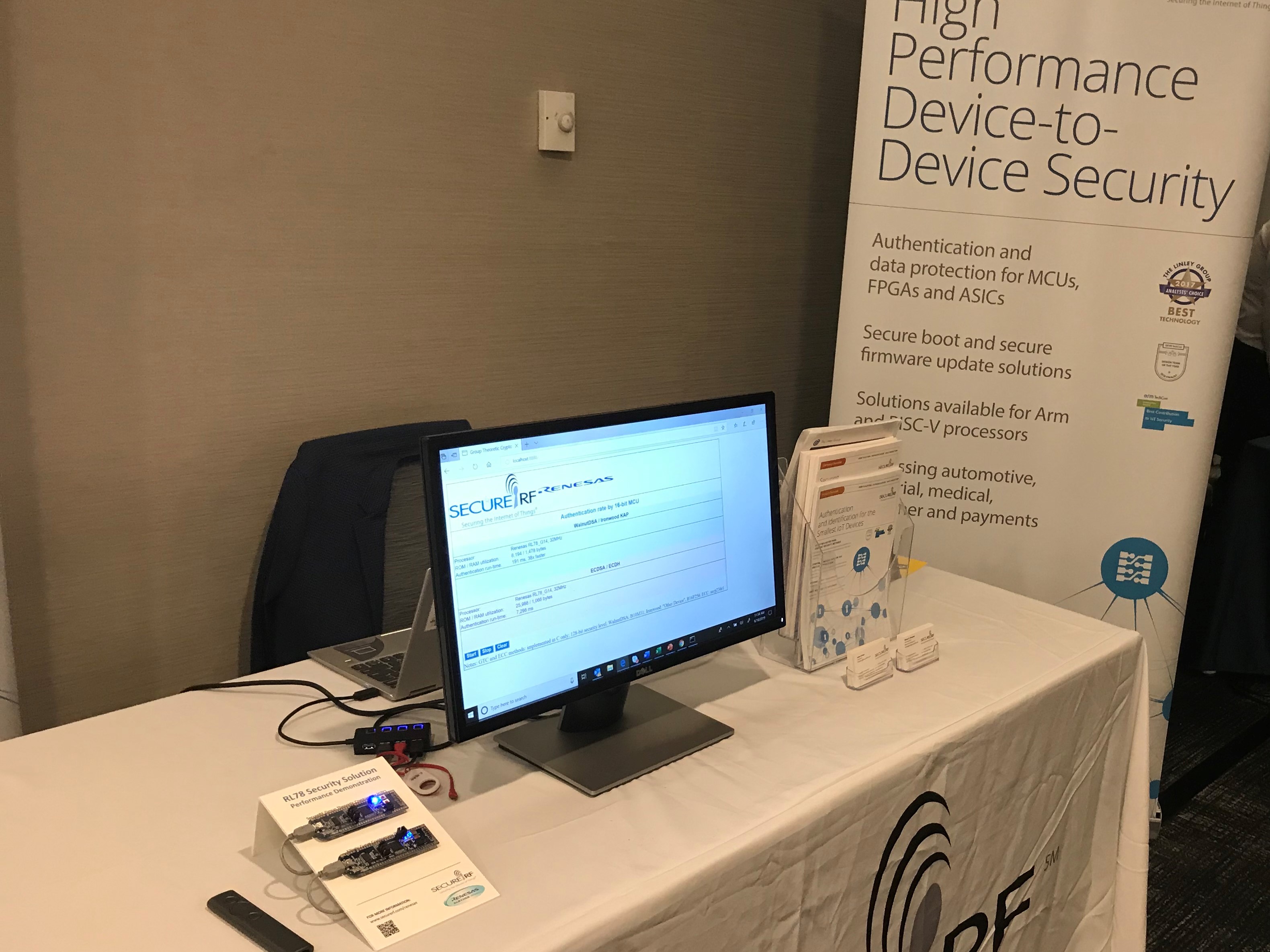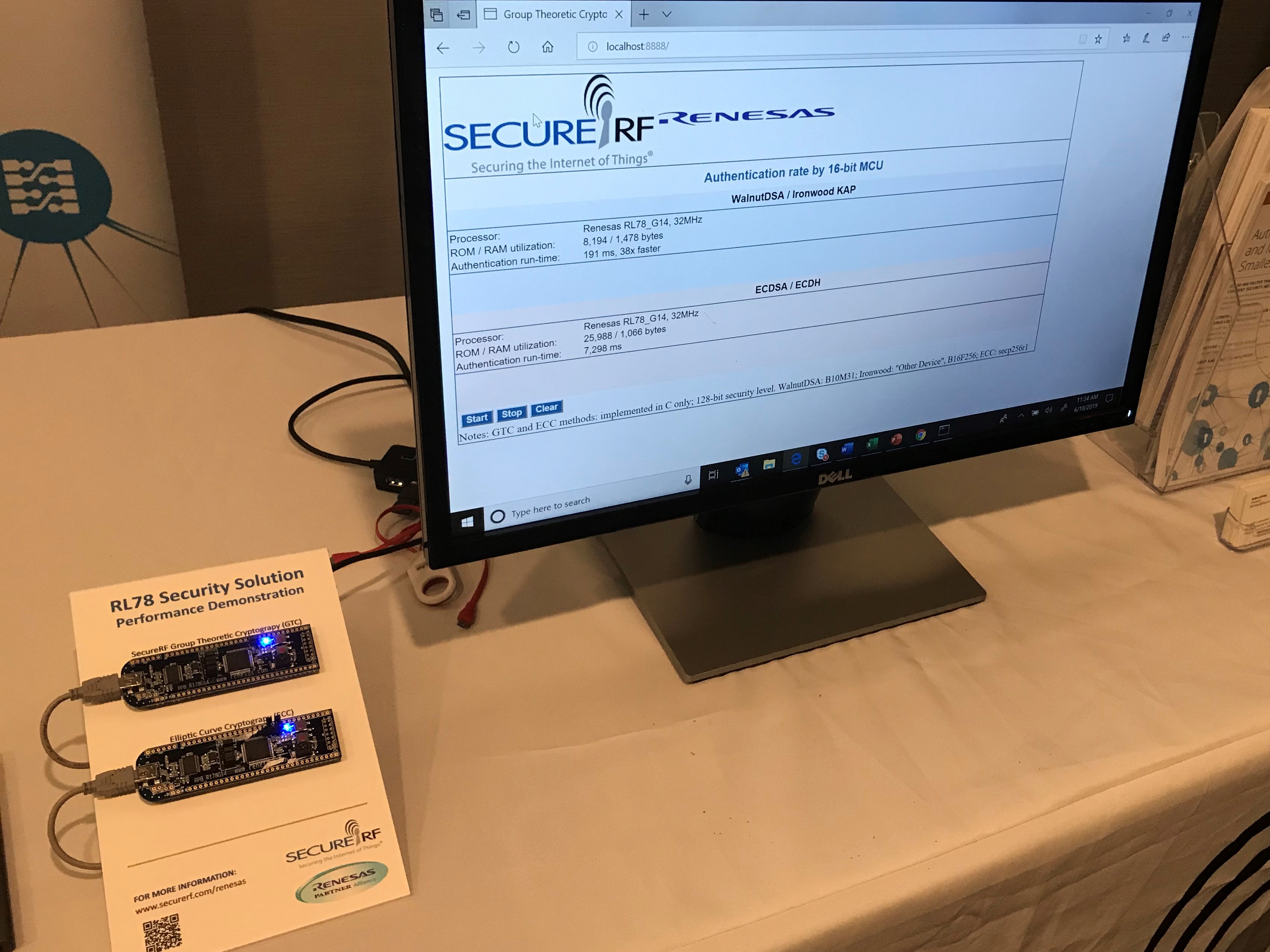 ST Developers Conference 2019, September 12, Santa Clara, California: SecureRF will be showcasing a demonstration of our fast, future-proof authentication and identification methods at the ST Developers Conference 2019. This FREE one-day interactive summit, to be held on September 12, 2019 at the Santa Clara Convention Center's Mission City Ballroom, will bring together experts in markets that are poised for rapid growth in the coming years: Smart Things for the IoT, Smart Driving, and Smart Home, City & Industry. This conference offers a unique opportunity to meet industry influencers offering their perspectives on how these technologies will affect the future of product development. And if you are looking to secure your ST-based products at the edge of the IoT – stop by our booth and see the latest in future-proof security solutions – and get your free SDK to jump-start your development now.
Contact us to arrange to meet with the SecureRF team at the ST Developers Conference.