SecureRF Wins ARM TechCon Innovation Award
SecureRF was recognized Wednesday with the Best Contribution to IoT Security award at this year's ARM TechCon in Santa Clara, CA. The company impressed the judges with two of its public-key security solutions, Ironwood™ Key Agreement Protocol (Ironwood KAP™) and Walnut Digital Signature Algorithm (WalnutDSA™), which are quantum-resistant security solutions for low-resource processors and embedded devices.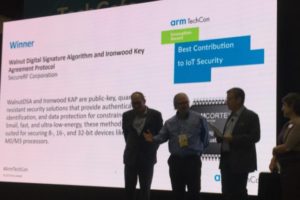 Engineers designing IoT devices face a major challenge. Low-resource devices, running on 8-, 16-, and 32-bit processors, lack the computing and memory resources required to incorporate contemporary security methods like Elliptic Curve Cryptography (ECC). SecureRF addresses the challenge with a variety of security solutions that provide authentication, identification, and data protection for constrained devices. Small, fast, and ultra-low-energy, the company's methods are ideally suited for securing 8-, 16-, and 32-bit devices like ARM Cortex-M0/M3 processors.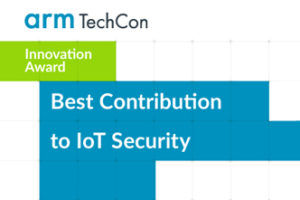 Ironwood KAP and WalnutDSA are at least 60 times faster than ECC, consume up to 140 times less energy, and do not require connection to a database or a network. With these solutions, engineers implementing even the smallest ARM Cortex-M series processors can secure their products. WalnutDSA™ also meets the demands of secure boot and secure update applications. SecureRF's protocols can be used for device-to-device authentication and complements ARM TrustZone technology.