Our Partners in Making Buildings Cyber Safe
Intel Solutions Brief: Future-Proof Security for Building Automation Systems
KMC Controls Partners with Veridify to Make Buildings Cyber Safe
DOME: Address Security in Already Installed Devices
DOME™ Protects New and Existing Building Automation Systems
Today, Operational Technology (OT) in buildings is becoming smarter and more connected through Building Automation Controllers (BACs) and Building Management Systems (BMSs). These systems can include access controls, HVAC systems, and a connection to the IoT. This inter-connectivity enables automation and efficiencies and creates security exposures that pose significant occupant safety, financial and reputational risks.
Veridify's DOME (Device Ownership Management and Enrollment) solution is designed to address new and existing building systems with tools that allow retrofitting security to an existing building network. Plus, DOME works with industry-specific protocols like BACnet, Fieldbus, Modbus, and KNX. DOME does not replace a building's current platform. Instead, it complements existing solutions and works seamlessly across multiple vendors, devices, and processors.
DOME's simplicity and scalability for Building Automation applications are used to secure the thousands of connected devices often found in a commercial building or multi-building campus, regardless of the device's size or operating system. DOME can address even the smallest, low-resource connected processors often found at the edge of a building's IoT networks. In this context, DOME is used to cost-effectively ensure every device in an automated building can be onboarded, managed, transferred, and retired with the security necessary to create a safe and trusted environment.
DOME™ Secures Every Device in a Building and Creates a Trusted Environment
DOME secures thousands of connected devices, from thermostats and lighting systems, to air handlers and parking access controls often found in a factory, commercial office, or multi-building campus. It cost-effectively ensures every device in your facility can be installed and managed with the security necessary to create a safe and trusted environment.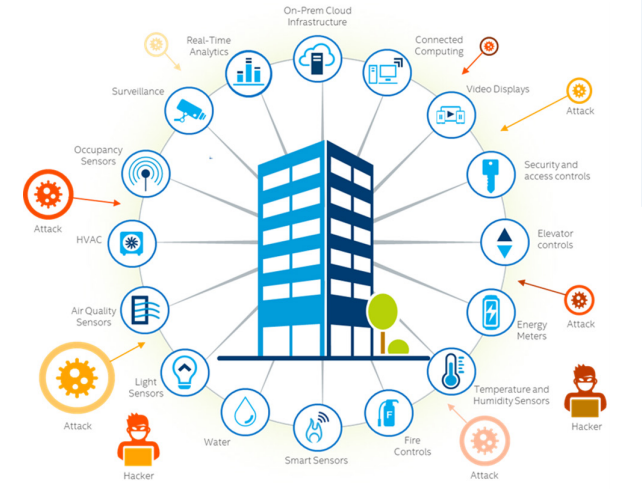 Key Benefits of DOME for Building Automation

Secure zero-touch provisioning of data and configuration settings in the field
Provides sensor the ability to quickly authenticate their owner with no cloud or third-party
Each device pedigree captured in a blockchain
Ability to transfer ownership of a device an unlimited number of times
Supports legacy and quantum-resistant methods
DOME Client deployable as software with support for ultra-low-resource processors
Markets:

Commercial Buildings and Real Estate
Schools and Educational Facilities
Manufacturing Facilities
Hospitals
Retail
Cyberattacks Cost Time and Money
Attack on Class-A Office Building BMS and damage to equipment costs $325K
60% of building system devices knocked offline from internal IT connection, with an estimated repair cost of $1.25M for the 2,000+ hours to restore, and taking over 15 days to re-verify.
47% of surveyed buildings had open connections to the Internet, creating significant security exposure for their OT networks
Source: Intelligent Buildings
Easy to Get Started
It is easy to manage your building's security with our hosted platform, DOME-enabled devices, and retrofit solutions that can be cost[1]effectively integrated with your current Building Automation system. To learn more, contact us at info@veridify.com.